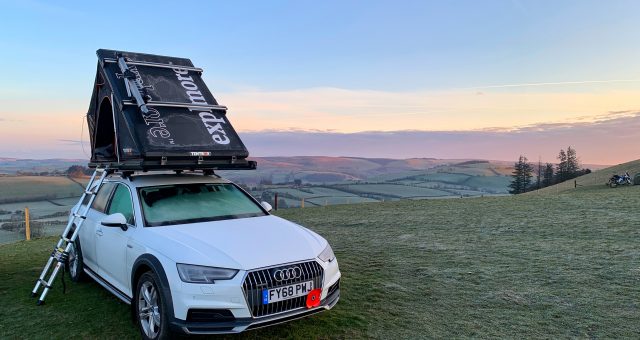 Tentbox Cargo Hardshell Aluminium Roof Tent – Review
The ultimate adventure companion, the TentBox Cargo Roof Tent is waterproof, durable and versatile. Transforming into a sleeping pod for two in under 60 seconds, as well as offering optional gear space, it is ideal for all kinds of camping.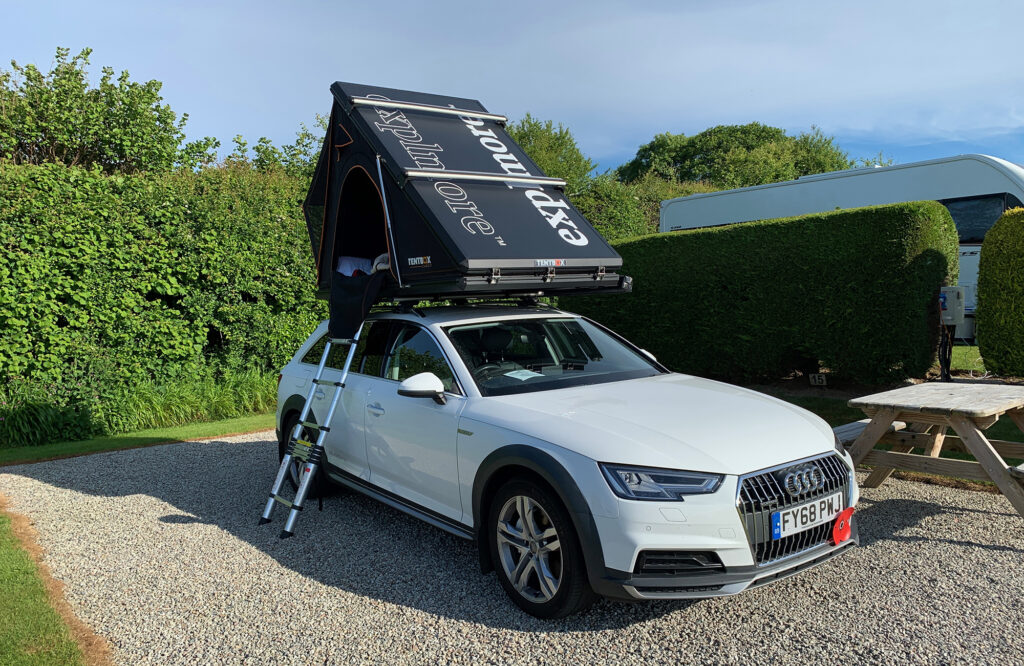 Top Features:
Durable, waterproof, and weatherproof 280gsm rip-stop canvas, with a 2000mm PU-membrane; Strong and lightweight aluminium honeycomb shell
Waterproof silicone sealant tape applied behind all seams, for added protection; Waterproof SBS zips to keep the rain out
Stainless steel and aluminium finished throughout
Built-in ventilation with vents at base, unique mattress shape to allow airflow, and thicker profile for air to circulate
Fine mesh fly netting to keep even the smallest insects out
Includes aluminium telescopic ladder that is lightweight and packs down small, 6cm memory foam mattress for extra comfort, and fixing kit
1 minute set-up time; Sleeps 2; Fits any vehicle
Dimensions: Packed: 215 x 127 x 16cm; Un-packed: 215 x 150 x 127cm; Pack size: 2.15 x 1.27m; Weight: 74kg; Roof load capacity: 74kg or more
5 year extended warranty; British design
Accessory rails optional extra
I've used normal ground tents for over 30 years, so the TentBox Cargo was my first experience into this wonderful world of hard-shell rooftop tents.
Erecting the TentBox Cargo in less than 60 seconds, while mates are still sorting out poles, tent pegs and trying to find a bit of ground that isn't lump and blowing up their air mattresses. Simply unclip the latches and up it goes with the help of gas struts. As for the bed, the comfy 6cm high-density foam mattress is the same size as a double bed, 125 x 210cm. 2x 6ft adults and easily fit, throw the kids in or a dog with you and it will be a cosy night.
Is packing it down a struggle? Nope: there's an elasticated band that goes all around the centre of the tents fabric sides and once you have this in place it pulls the tent in while you close it. All you do is pull it down, making sure all the fabric is tucked inside and latch it closed.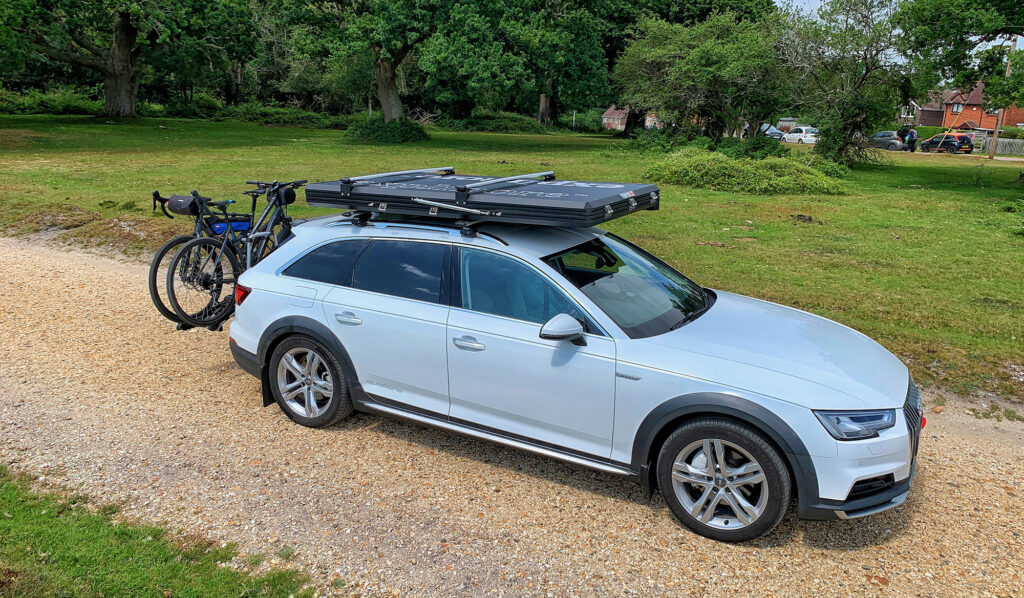 Disadvantages? It weighs 65kg, so don't even think you are removing or installing this on your roofrack on your own, you will need a willing friend. Size (127 x 215 x 17cm when closed), but the cargo does offer its own roofbars to fit further accessories. I have the Tentbox awning install on the passanger side, which is a nice addition at a campsite to give a still shelter from rain or sun.
Obviously something so big is going to affect your fuel consumption, but this is normal when slapping stuff onto the roof of any car or 4×4. Most people take rooftop tents off for the winter. However, my Audi Allroad 2.0ltr diesel, auto, Quattro (AWD), normally does 48-53mpg on a steady motorway run at 70mpg. I have still been able to get 46-50mpg with the Tentbox on. On the road of course there is a little more wind noise and you do feel the weight on the roof in the corners, but it really isn't that much of an impact. On a 4×4 offroad where the centre of gavity would be higher, sure, you will feel the additional weight.
One of the nights I spent in the TentBox Cargo was extremely windy and dropped to -3 degrees, but it didn't affect my sleeping or comfort levels. TentBox Cargo has a wind rating of up to 39mph.
I really like the dark breathable ripstop canvas, the interior is nice and dark when zipped closed almost a full blackout. You can watch the sunset by just open one of the three doors/windows. All three openings have zip mesh fly-screens , which you can still see out through when zipped closed.
There's no condensation build-up in the tent, a mesh under the mattress keeps an air gap between the outer shell and the base of the mattress. Overhead a huge cargo net on the ceiling offers plenty of space to stuff cloths bags out the way, while on both sides are pockets for storing bits you might need during the night, phone, torch, munches etc.
If you're after a hard-shell rooftop tent the TentBox Cargo is definitely worth considering. I never once feel it is lacking in quality.
What I liked the most:
Takes less than 30 seconds to erect
Comfortably houses two people
Lots of storage space in tent
My girlfrind can close it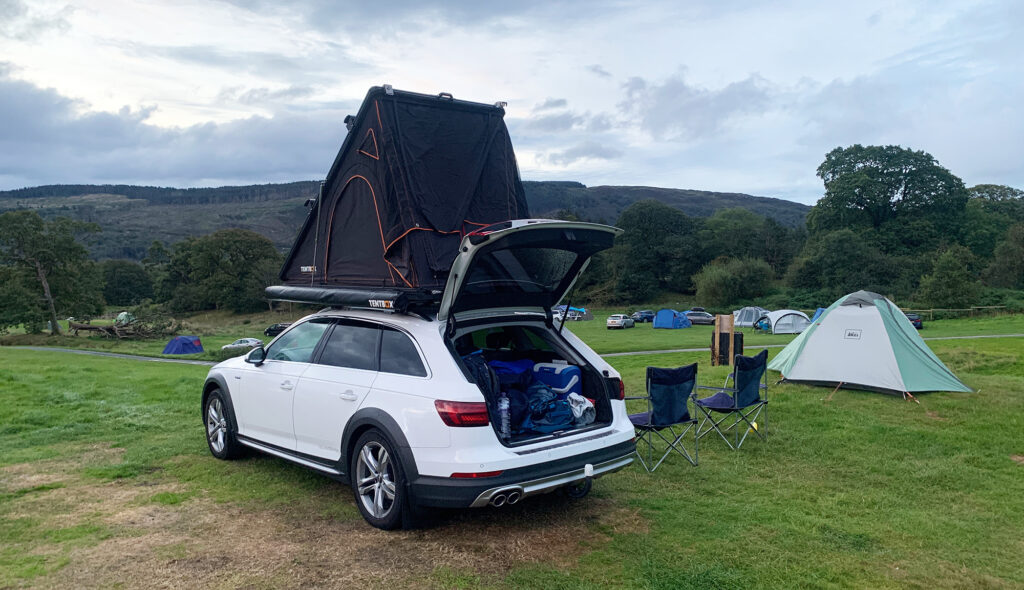 Understanding Your Vehicle Roof Load
You can find your vehicle roof load capacity in your vehicle owners manual. The roof load capacity of your vehicle must be greater than the weight of the rooftent you're putting on top and any other accessories. For the TentBox Cargo Roof Tent your roof load capacity must be 68kg or more.
It is also important to note that your listed vehicle roof load limit is for a dynamic load, which means the maximum recommended roof load while the vehicle is being driven. When your vehicle is stationary, your vehicle can take more load weight – this is called the static load. In other words, there is no need to worry about the added weight of people inside your TentBox, as they will only be inside when your vehicle is stationary. There are a lot more forces applied on a vehicle when it's being driven (breaking, turning, hitting bumps, wind etc), which is why there is such a big difference between the dynamic and static loads.