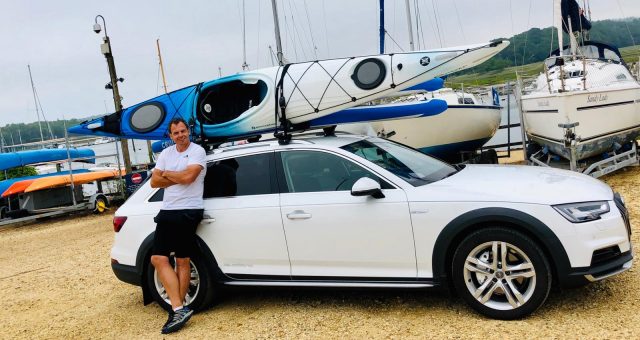 Guide 1 – Your paddling adventures start here!
Here are my useful pointers to get you on the water having fun and staying safe!
The UK being an island, has an abundance of places to paddle on the coast but also a great selection of inland waterways, lakes and lochs. There are a wide range of groups, clubs and watersport centres where you can try out and join in kayaking, canoeing, paddleboarding etc.
When starting out always paddle with other people. If you end up in the water, it will be another paddler who will help you back in your boat.
Where to go?
You always need to think carefully about where you paddle, if the conditions are too much for your level of experience, you can quickly get into trouble. On the other hand, if they are too mild you may get bored as you improve.
As a beginner you need to be progressive with the places you go, building confidence on the way. You should always start in conditions that are calm/flat water, no wind, lots of access to the shore or bank and good water quality (should you end up in the water and swollow any). Ideal places to paddle are lakes, canals, gentle rivers and reservoirs, all known for sheltered water. On calm days the sea can be inviting but also dangerous. I would recommend using harbours, bays and estuaries, keeping an eye on the weather and the tides especially. Also keep your eyes out for boating channels and traffic.
As your experience and knowledge grow you can progress towards more advanced conditions including; waves and rougher water, obstacles in your path, wind, exposed banks/coasts and moving water. The skills you learn from the start are the same ones you'll need throughout your paddling. You'll need to develop these skills in calm conditions first and practice what happens as the conditions get more serious.
What kayak?
Once you start looking at the range of kayaks you'll be amazed at your choices and the difference in designs. Starting in a stable boat that is easier to steer will give you the confidence to carry on and grasp basic skills. Longer boats mean they'll be faster. Wider boats offer more stablility and shorter boats give you more manoeuvrability. The Perception Expressions are a great range of boats for the beginner. Designed for day trips and weekend adventures trips it's comfortable, stable, will be easy to paddle and you can take a all your gear with you. We can't have everything in our boat design so beware of boats described as 'all-round-ers'. Each design feature will be a compromise against another. Try lots out before you buy! This will give you a sense of what you're keen to do; therefore helping you decide the style you like.
I currently have a Perception Expression 15 which ticked alot of my boxes for a multi-purpose sea kayak. See my review here:
Beware of boats described as 'all-rounders'. Each design feature will be a compromise against another.
What equipment will I need?
The kit you choose is important for your safety as well as your comfort and enjoyment. Below is the bare minimum for kayaking on sheltered water within easy reach of the shore or bank.
Buoyancy Aid – These come in many shapes and sizes and most will be suitable in many craft. An average adult would need a 50N buoyancy aid (50N being the amount of buoyancy the aid will provide). Make sure it fits well and rinse in fresh water after using it in the sea. Yak make a good range of buoyancy aids, see a review of the one I use here:
Paddle – There are six considerations in buying a paddle Durability, weight, blade size, shaft and grip size, feel and efficiency. Think carefully about what discipline you will be doing as well as your size and physical ability when choosing a paddle. It's well worth trying a few before buying.
Cagoule (Cags) – This is a windproof top designed to minimise the amount of water that reaches your skin, and helps to keep you toasty warm on your adventures. Below are reviews of two Cags which I use depending on weather and conditons. Yak make a good range of Cags, see reviews of the ones I use here:
If you're going to end up in the water, wear a wetsuit to stay warm and comfortable.
If you head out further it's a good idea to carry a bit of extra kit just in case. Spare clothing, first aid kits, tow lines and a mobile phone in a dry bag are essential.
As your trips become more adventurous you should also carry VHF radio, flares, shelters, repair kits and throw lines. You must have the knowledge to be able to use this equipment, otherwise it's just weight in the boat.
When things don't go to plan?
The weather turns bad – Taking plenty of warm clothing when kayaking can be important as the weather can be unpredictable, water conditons can change quickly with tides and wind. Make sure that you and fellow paddlers are at a suitable ability for the planned trip and get some coaching before trying something too adventurous. Check the forecast before going paddling. Windfinder and the Met Office are good sites for up to date information.
Someone falls out – Practice your rescues in a very sheltered environment so if there's a capsize you can get back in or help to rescue someone else. Being sure of a variety of rescue techniques in a range of boats will give you lots of confidence. Clubs often run pool sessions to practice getting in and out of the boat, in the warm. Always tell friends and family where you are going and a time that you'll be off the water.
Coaching & Instruction.
The best way to improve your paddling skills is to get some coaching. It's one thing to learn a sport informally through the help of friends but it is a completely different thing to learn the proper technique that will advance your skills to the next level. If you are just starting out, take a beginner's course to practice the fundamentals that will stay with you throughout your paddling. If you are an intermediate take a more advanced course to experience new environments. With each lesson you take, your level of ability will increase in leaps and bounds.
Go to guide No 2. – Where to kayak in the UK